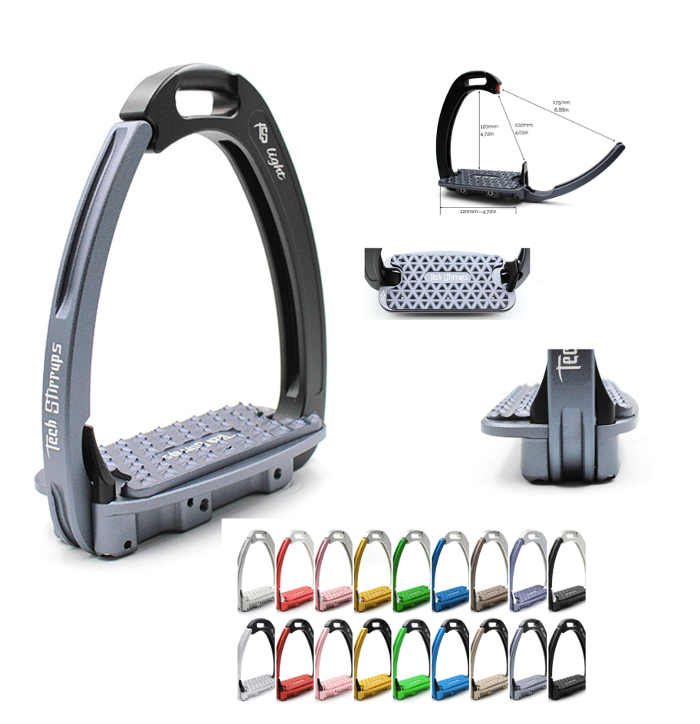 Colors shown in Silver, Red, Pink, Titanium, Gold, Green, Blue, Brown & Black. The top row with Silver and the bottom with Black
Venice light is the lightest safety stirrup  available on the market.
The aluminum stirrup weighs only 460gr, enclosing stability, durability and design in one single product:
 "Venice light" riding stirrups are provided with a revolutionary safety mechanism which allows a section of the stirrup to open, thus easing the release of the foot; which, thanks to a specific spring, then goes back to its original position. The spring allows the moving part to stay closed during horse riding activities and to open only when a certain pressure is applied. The locking mechanism of the moving part is cushioned by a rubber insert on the ring which allows it to be particularly reactive in case of need.
All patented Tech Stirrups  are 100% made in Italy. Tech Stirrups Venice Light are made from aluminium billet and then fastened with stainless steel screws. They are anodised (20μm treatment) to preserve their aesthetic quality.
The patented grip has been designed to grant excellent adherence even in case of quick movements, which do not get restrained, thanks to the lightness of the stirrup.

Venice light stirrups have been designed with a 3 ° sloped tread and a concave pad to ensure proper foot placement, thus improving stability.
The shape of the stirrup leather loop itself has been conceived so to allow adjustments and effortless mounting. Our stirrups does not need special leathers. Classic stirrup leathers can be used.