Flat Rate Shipping 
$18 for orders less than $100, $12 for orders greater than $100. US orders please add $10 by using the Paypal button below.
---
Can't find something? Use this Google Search bar! Ads will be displayed first, The Hitching Ring results will follow!
---
Show Shirts
---
Tuff Riders Kirby Kwik Dry Show Shirt
Made with a moisture management  fabric that will keep you cool, comfortable, and looking your best on show days. Contrast piping that follows a princess seam line on the front adds a pop of color and a flattering fit. A crisp, woven wrap collar and cuffs ensure a clean look under your show coat. 

100% Polyester
Colors: White with white trim, blue trim or pink trim

Adult Sizes: XS - 3X
Long Sleeve: $72.99
Short Sleeve: $63.99

Child Sizes Small-Large
Short Sleeve: $45.00
---
Kathryn Lily Equestrian

---
Pro Air Long Sleeve Show Shirt
KL ProAir fabric was created with the competitive rider in mind. This ultra soft, stretchy fabric is light weight, breathable and wicking. Designed to keep you cool on the hot days and warm on the cool, the ProAir fabric is so comfortable, it feels like air! Long sleeves have the signature Kathryn Lily snap up sleeve and a snap up collar.

The adult and chlidren's long sleeve shirt is available in Sky Blue and Raspberry. Collar and placket are embellished with a Kathryn Lily pattern ribbon which adds the perfect touch of  fun sophistication.  

I have Small Ladies shirts available in Raspberry and Sky Blue. 
Other sizes/ colors currently unvailable
---
Romfh Show Shirts

Romfh Competitor Show Shirt
The Romfh® Competitor Show Shirt - Long Sleeve is perfect for the hottest of show days, with our custom Cool-touch™ microfiber with Chill-factor™ and breezy micro-sheer mesh panels located discreetly on the bottom side of the sleeves. Features a crisp woven placket and wrap collar with invisible magnetic snaps, contrasting color inside collar and placket and flat seam stitching on body and sleeves, feminine Romfh® embroidered logo design on sleeve and left chest. This shirt is the best of both worlds: wear it closed for a crisp classic ratcatcher look, or open for a cute polo look. Great for showing and schooling in-between classes. NEW Chill-factor™ will cool you down as well as protect you from solar rays. Machine wash.

Sizes: XSmall- XLarge

Long Sleeve: White with White, Royal, Melon, Periwinkle and Teal- $108.00

Short Sleeve: White/White -  $90.00
---
Romfh Stephanie Long Sleeve Show Shirt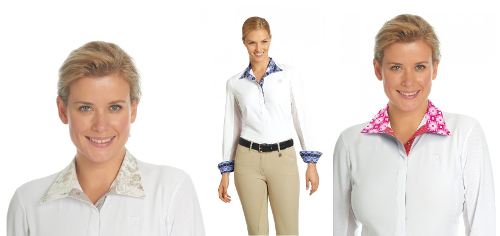 The Stephanie Show Shirt features Chill-Factor fabric with sheer mesh under sleeves to keep you cool, while the woven snap-wrap collar, placket and cuffs give a classic 'equestrian' look. Fun prints hidden inside collar, plackets and cuffs keep it unique. Quiet white top-stitching and logos make this the perfect Hunter Show Shirt. Machine washable

Sizes Xsmall to XLarge 

Colors: White with Toile, Blue Stirrups, and Pink Disco (the order they appear in picture)

$131.00

---
Irideon Ladies Cooldown Icefil Short Sleeve Show Shirt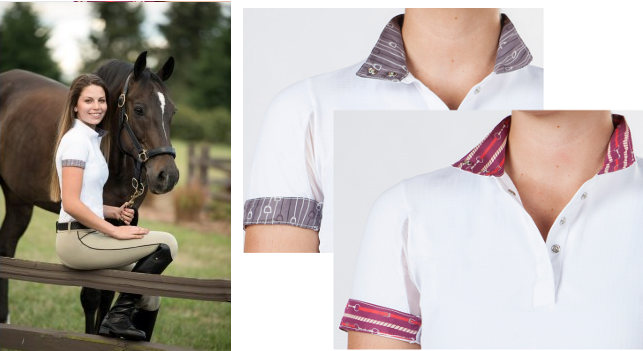 Throw this on under any show coat to look sophisticated and add versatility. If you're wanting to spice up your look, fold up your cuffs to reveal our exclusive equestrian-inspired patterns. In addition to this fun accessory, we utilized fabric technologies to keep you cool, comfortable and protected.


Sizes: XSmall to XLarge

Colors: White with brown Stirrups and "pink" Tack

$158.00

Like us on Facebook to stay up to date on new products and sales!

---