| | |
| --- | --- |
| US Orders use this Paypal button to add shipping | |
---
---
Horse Boots
---
---
Canadian Saddlery
Splint Boots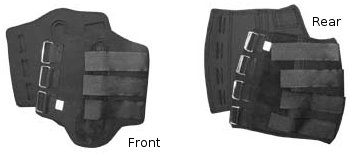 Black neoprene boots with suede protection patches and Velcro Closures 

Sizes: Small, Medium and Large
Front: $50.99/pair

Rear: $54.99/pair
---
Canadian Horseware
Sports Medicine Boots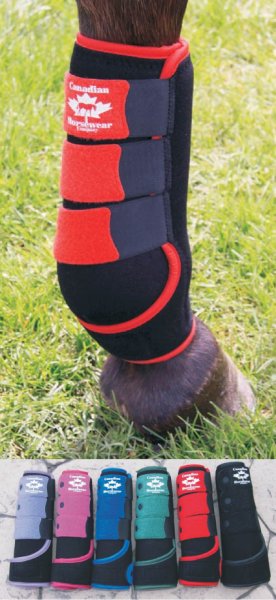 Competitively priced with top quality construction, stitching and velcro. These horse boots protect from damage caused by interference and provides comfortable support to the suspensory ligament


Only one large hunter green left in stock


Large:
Front Leg - 16-17 hand horse
Back Leg 15-17 hand horse

$45.99/pair
---
Canadian Horseware Sports Medicine Boot
New and Improved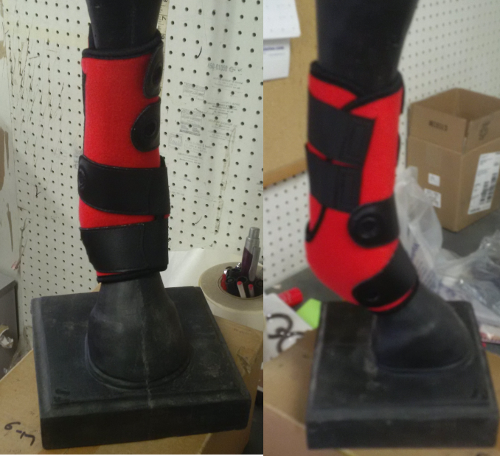 This is the new and improved Canadian Horsewear Sports Medicine Boot. Same style, just a bit more "flexible", and more color.
Sizing:

Small
Front or Back Leg - 14-15 hand horse


Medium
Front Leg - 15-16 hand horse
Back Leg 14-15 hand horse

Large:
Front Leg - 16-17 hand horse
Back Leg 15-17 hand horse

Colors:

Purple, Pink, Royal Blue, Red, Black

$54.99
---
Equi-Sky Lami Cell Sports Medicine  Boot

Full protection and ligament support. Made from Air-Flow neoprene that is perforated and breathable. Great contoured fit. The next generation of Sports Medicine boots.
Sizing:

14-15 hand horse: Small for front, medium for back legs

15-16.2 hand horse: Medium for front, Large for back legs

16.2-17.2 hands: Large for front, Large for back legs

$72.99/pair
---
Equi-Sky Ballistic Bell Boots
No turn heel bulb, contour fit with double velcro closure. Soft padded roll around top to prevent rubbing. 
Avaialble in: Medium, Large and XLarge

Colors: White , Black, Lime, Purple

$36.99
---
Hock Boot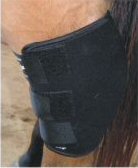 Contoured neoprene. Good protection with minimal restriction for shipping and stall wear. Set of 2.

---
Norton Hard Shell Boots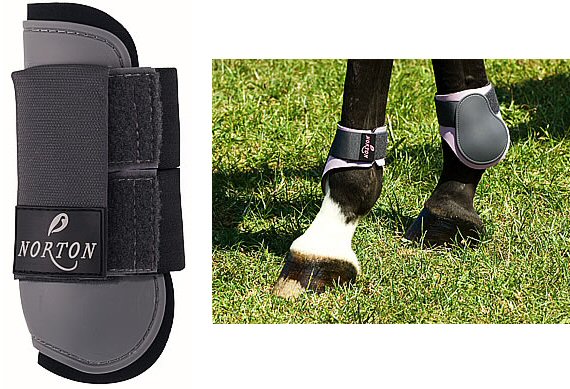 Limited Availability
Norton Hard Shell Tendon Boot
- Anatomical molded plastic outer shell
- Non-chaffing neoprene lining
- Available in full size in:White 
$35.99

---
Norton Hard Shell Tendon/Fetlock Boot
Fleece Lining
Limited Availablity
- Anatomical Molded plastic outer shell
- Fleece lining
- Available in : Navy with Grey
Fetlock Boot: $27.50
---
Sports Medicine Combo Boot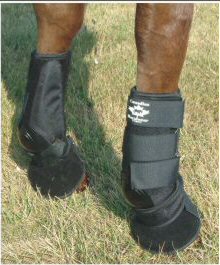 The support of a sports medicine boot with the shock absorption of a splint boot and a no turn bell boot.

Available in: Medium and Large

$76.99
---
---
Open Front Jumping Boot and Ankle Boot

Jumping Boot

Waffle weave cushioned lining

Sizes: Average Horse & Large Horse

$33.99
Ankle Boot

Hard outer shell with waffle weave cushioned lining

$ 25.99
---
Veredus Nero Line
Incredibly popular with top riders on the A circuit, Veredus boots flex with the horse's leg instead of interfering with the natural motion during take-off, bascule and landing. This gives the horse flexibility while offering support and protection to their legs and joints. American and European top trainers and riders trust Veredus to safeguard the legs of their best athletes, shouldn't you? 
Carbon-Gel Tendon/Fetlock Boot
An absolutely innovative tendon boot characterized by a perfectly anatomical shape that guarantees the maximum comfort and perfect positioning on the horse's limb.
A carbon support inserted in the shell and a gel pad provide the maximum protection at the flexor tendon and fetlock, areas at particular risk of injury and bruising.
A quick closure, adjustable with elastic straps, makes the "CARBON-GEL" tendon boot extremely practical to put on and remove.
Available in: Black, Brown
Sizes: Small, Medium and Large
Front Tendon Boot: $254.99 per pair
Back Fetlock Boot:  $227.99 per pair
---
Nero Line Olympus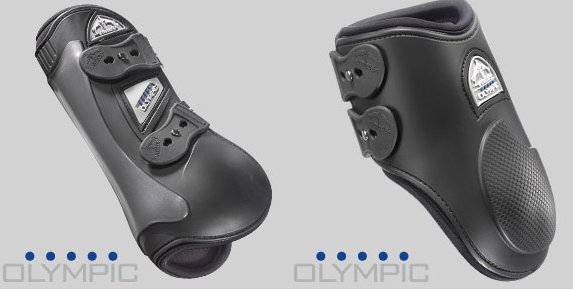 The best fitting and performing open front boot for jumpers with strike plate technology. The anatomic design give more freedom of movement to knee and fetlock, while providing maximum comfort and support. The dual density shell provides more protection. The main shell is composed of semi-rigid polyurethane while the rear "x" strike plate that provides durability after repeated strikes. Eva foam lining in the strike plate provides superb shock protection. Elastic straps are soft and self-adjustable to any size leg eliminating problems of excessive pressure. Fast release ferrules with narrowing hook holes allow fast and easy hooking and release, without compromising security. Made in Italy.

Color: Black, Brown

Size/CIRCUMFRENCE OF CANNON:
Small 17-19 cm (approx 6.69"-7.48"),
Medium 20-24 cm (approx 7.87"-9.45")
Large Over 24 cm (over approx 9.45")
It is difficult to apply a rule for all cases. 
Front Tendon Boot: $209.99 per pair

Fetlock Boot: $145.99 per pair.
---
Woof Wear
more coming soon...
Horse Size
Front Boot
Back Boot
Pony: 12.2-13.1
small
Small
Cob: 13.2-14.1
small
medium
Cob/Full: 14.2-15.2
medium
medium
Full: 15.2-16.2
medium
medium
Extra Full: 16.3+
large
Xlarge
---
Like us on Facebook to stay up to date on new products and sales!

---
Share pictures of you and your horse using your new stuff!!
@thehitchingring