| | |
| --- | --- |
| US Orders use this Paypal button to add shipping | |
---
---
Horse Bell Boots

(Overreach Boots)
---
"Bell boots fit around and underneath the fetlock and Velcro in place. Some can even be pulled on, and these may be used if the ones with Velcro cause chafing or do not fit the horse well. Proper fit means that the rider can put two fingers between the bell boot and the pastern at the top opening, and they should cover the heel bulbs. Bell boots are used when a horse has a tendency of overstepping/overreaching, which could then cause him to catch the back of his front hoof or coronet and cut or bruise himself. In addition, the horse could pull off a shoe, along with part of the hoof. Horses that have studs on their shoes also benefit from the use of bell boots so that the studs do not injure the horse if he catches himself. Bell boots can also be used during turnout or shipping or when being ridden."  
- from the Certified Horsemanship Association:  http://cha-ahse.org/store/blog/keeping_horse_legs.html#sthash.YpYz5PMD.dpuf

---
---
Equi-Essentials Heavy Duty Fleece Bell Boot
Colors: Black & White

Sizes: Small - XLarge

$27.99
---
Equi-Essentials Bell Bottom
Double thick bottoms for extra protection.

Style shown in the white boot. The other boots are to display colors.

Black, White or Gum (no XL in gum)

$25.99
---
Davis Regular Size and Draft Bell Boot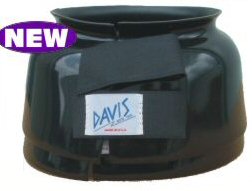 Davis quality draft horse bell boots are now available in two sizes in black heavy-duty PVC compound. Providing overreach protection, the boots are contoured to fit and are much more durable than conventional rubber boots.

Tear-resistant, our bell boots also feature a double-locking Velcro closure to minimize turning while holding the boot firmly in place. 

Durable, quality made and great fitting! 

Davis Bell Boots are several times more durable than conventional rubber boots.
Sizes: 


Small - height: 3 5/8", bottom diameter: 5"
Medium - height: 3 7/8", bottom diameter: 5 1/2"
Large - height 4 1/8", bottom diameter: 6"

Draft #1 - 4-3/8" Height - 7 1/2" Bottom Diameter 
Draft #2 - 4-3/8" Height - 8 1/2" Bottom Diameter

$56.00
---
Norton Over Reach Boot
Limited availability


- Medium weight PVC, light and flexible
- Full length
- Double Velcro flap system
- Secure and very easy to put on
- Ribbed
Sizes: Large

Available in: Purple

$15.99/pair
---
Centaur Double Velcro Bell Boot
Limited Availability... These Centaur Horse Bell Boots are top quality bell boots made from pure rubber with no fillers, so they stretch easier and are more comfortable for your horse.
Comfortable rolled cuffs at top and two name-brand VELCRO closure tabs make these secure and easy to put on. The pure rubber is extra soft and less likely to rub. 
Available in : Ice Pink, Large

$15.99/pair

---
Centaur Ribbed PVC Bell Boots
with Double Hook & Loop Closure
---
Equi-Sky Ballistic Bell Boots
No turn heel bulb, contour fir with double velcro closure. Soft padded roll around top to prevent rubbing.
Sizes: Medium, Large and XLarge

Colors: White, Black, Lime, Purple

$36.99

See the matching Sports Medicine Boots HERE (half way down the page)

---
Woof Kevlar Overreach Boots
The ultimate tough, durable overreach boot.
• 8 mm PX closed cell neoprene
• Extremely durable Kevlar outer shell to resist abrasion
• Extra-deep design for maximum protection of heel area
• Wide, reinforced double lock strap

Available in sizes: Small, Medium, Large and XLarge

$87.99/pair
---
Woof Smart Overreach Boot
The Smart Overreach Boot provides exceptional protection to the delicate heel and pastern area against overreach injuries. The inclusion of Poron® Xrd™ foam in the key strike area means that the PU shell can be more flexible and therefore more comfortable than other products on the market because on impact the Poron® Xrd™ foam stiffens to give added protection. We call this protection on demand.
Conventional overreach boots tend to spin around the hoof when the horse is moving. Woof Wear designers have solved this problem by utilising computer aided design techniques. The result is an anti-spin device that locates snugly into the back of the heel and gives the horse greater protection from the overreach injuries.
Available in Small, Medium, Large and XLarge

$66.99
---
Woof Wear Pro Overreach Boot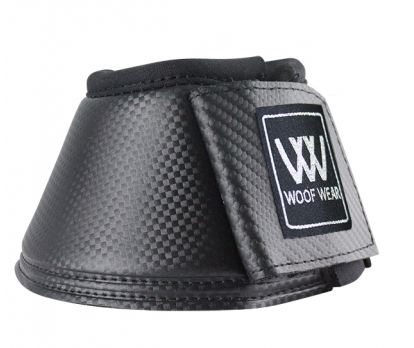 Suitable for all aspects of ridden work, including competition use - the Pro Overreach Boot is a stylish and functional boot offering superb protection against overreach injuries.
7mm neoprene base with additional 3mm layer to protect the bulbs of the heel

Smooth rolled anti-rub collar

Hard wearing carbon-effect outer 

Matching double lock strap for security

Recessed stitching for strength and durability
Sizes Small , Medium and Large

Colors: Black and White

$43.99
---
Veredus Carbon Shield Overreach Boot
Revolutionary overreach boot designed for a whole and safe protection of the  heel area. Usefull for every discipline and can be used on all surfaces (grass, sand, mud). Anatomic shape for a perfect adherence, extra carbon protection on heel area, double point fastening, quick-resease tips.

•    Anatomically shaped
•    Extra-carbon protection on heel area
•    Double point fastening
•    Elastic straps
•    Quick-release tip
Available in Black or Brown

Small, Medium and Large

$257.99
---
---
Like us on Facebook to stay up to date on new products and sales!

---
Share pictures of you and your horse using your new stuff!!
@thehitchingring