Horse Bell Boots
---
Davis Regular Size and Draft Bell Boot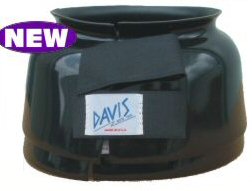 Davis quality draft horse bell boots are now available in two sizes in black heavy-duty PVC compound. Providing overreach protection, the boots are contoured to fit and are much more durable than conventional rubber boots.

Tear-resistant, our bell boots also feature a double-locking Velcro closure to minimize turning while holding the boot firmly in place. 

Durable, quality made and great fitting! 

Davis Bell Boots are several times more durable than conventional rubber boots.
Sizes: 

Small, Medium And Large Regular sizes 
$27.99

Draft #1 - 4-3/8" Height - 7 1/2" Bottom Diameter 


Draft #2 - 4-3/8" Height - 8 1/2" Bottom Diameter
$39.99
---
Norton Over Reach Boot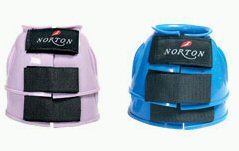 Limited availability


- Medium weight PVC, light and flexible
- Full length
- Double Velcro flap system
- Secure and very easy to put on
- Ribbed
Sizes: Large

Available in: Purple

$15.99/pair
---
Centaur Double Velcro Bell Boot

Limited Availability... These Centaur Horse Bell Boots are top quality bell boots made from pure rubber with no fillers, so they stretch easier and are more comfortable for your horse.
Comfortable rolled cuffs at top and two name-brand VELCRO closure tabs make these secure and easy to put on. The pure rubber is extra soft and less likely to rub. 
Available in : Ice Pink, Large

$15.99/pair

---
Woof Kevlar Overreach Boots
The ultimate tough, durable overreach boot.
• 8 mm PX closed cell neoprene
• Extremely durable Kevlar outer shell to resist abrasion
• Extra-deep design for maximum protection of heel area
• Wide, reinforced double lock strap

Available in sizes: Small, Medium, Large and XLarge

$72.99/pair
---
Pro Tek Bell Boot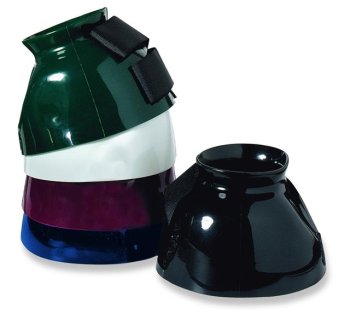 Durable, heavy duty PVC compunnd rubber makes these boots virtually rip proof. Durable Velcro closures.

Now available in Black only

Sizes: Small, Medium, Large, XLarge

$16.99/pair
---
Like us on Facebook to stay up to date on new products and sales!

---
Share pictures of you and your horse using your new stuff!!
@thehitchingring