Flat Rate Shipping In Effect
$18 for orders less than $100, $12 for orders greater than $100
US orders add $10
| | |
| --- | --- |
| US Orders use this Paypal button to add shipping | |
---
---
Easy Boots
For detailed Easy Boot fitting and measuring instructions, scroll towards the bottom of the page or

click here
Click here for therapy boots, continue to scroll for rideable boots
Click here for accessories such as studs and buckles
---
Easy Boot 
The Easyboot has been the industry's leading horse boot for over thirty years. Easy boots have been used to win endurance races, complete mounted treks from 2,000-18,000 miles in length, provide traction to mounted police units, treat many hoof problems and ride a horse home after a lost shoe. Although the Easyboot concept has continued to improve each year, in 2005 we introduced several enhancements which incorporate testing and feedback from horsemen all over the world. Essential Gear 

The Easyboot 2005 is the ultimate in hoof protection and one of the most important items you should carry with you on any ride. Prevent lameness and frustration when you lose a shoe far from home and still finish your ride without compromising the health and safety of your horse. 



Easy boots can also be worn in place of steel shoes or even over steel shoes for additional protection, traction and cushioning on rocks and hard ground. These boots are ideal for horses with laminitis, founder, abscesses and other hoof-related medical problems. Made from durable urethane and in sizes to fit most horses, these boots will outlast any steel shoe! 
Sold individually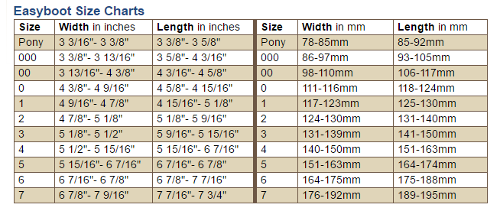 Sizes:


Pony,000-2:  $100.00 each
3-7:               $129.00 each
---
| | |
| --- | --- |
| | |
| OVERSTOCK  Easy Boot Size 4 (2 left) $65.99 | |
| | |
---
Easy Boot Epic

The Easyboot Epic is the ideal boot for aggressive conditions or for a horse that is difficult to keep booted. The attached Easyboot Gaiter provides extra protection to the hoof and prevents excess dirt and debris from entering the boot. It also helps secure the boot in extreme conditions such as mud, snow and water crossings.
 The Easyboot Epic has been used by endurance riders in every distance and have been used in many thousands of miles of competition. These riders have proven that barefoot booted horses can go any distance in every type of terrain, and that the Easyboot Epic can withstand the tests the toughest riders can give them.
Sold Individually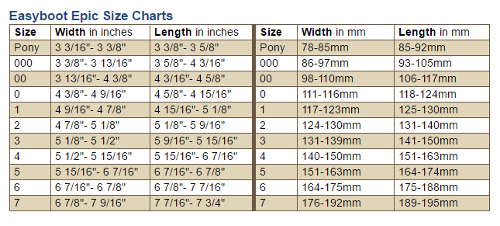 Size:
Pony, 000-2:  $145.00 each
3-7:                 $172.00 each
---
| | |
| --- | --- |
| | |
| OVERSTOCK  Easy Boot Epic Size 3 (2 left) $100.99 | |
| | |
---
Easy Boot Fitting Video
---
.
Easyboot Grip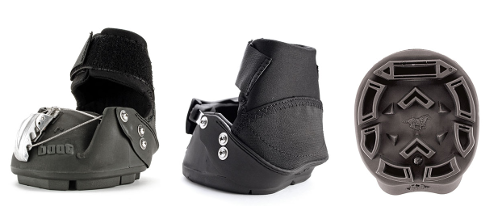 The Easyboot Grip is essentially the Easyboot Epic with an aggressive sole and traction tread pattern. The Easyboot Grip is ideal for the barefoot horse ridden in soft muddy conditions or wet grass and snow surfaces. The aggressive traction pattern provides better grip on these surfaces but should never be used on dry surfaces or hard surfaces. 

The Grip should be used in soft soil conditions or soft wet grass and snow surfaces only! Although the Easyboot Grip provides increased traction in slippery conditions, riding horses in wet, muddy and soft conditions is dangerous and should be done at your own risk. 

Available in size  3 only. Sold individually. 

| | | |
| --- | --- | --- |
| Hoof Width | Hoof Length | Boot Size |
| 4 3/8 - 4 9/16 | 4 5/8 - 4 15/16 | 0 |
| 4 9/16 - 4 7/8 | 4 15/16 - 5 1/8 | 1 |
| 4 7/8 - 5 1/8 | 5 1/8 - 5 9/16 | 2 |
| 5 1/8 - 5 1/2 | 5 9/16 - 5 15/16 | 3 |





$103.99
---
Easy Boot New Glove
New for 2016, the Easyboot Glove 2016 features a more durable gaiter with a padded broader attachment system at the front and a blended urethane component at the rear. The design enhancements reduce the risk of rubbing at the front of the pastern and add reinforcement to the rear of the gaiter.

A slim, form-fitting boot that is easy to apply. Features our best tread pattern yet, based on 40 years of experience and the latest in technology. Ideal for the well-maintained barefoot hoof.  Power Straps are recommended for aggressive riding, hilly terrain and muddy conditions (sold separately).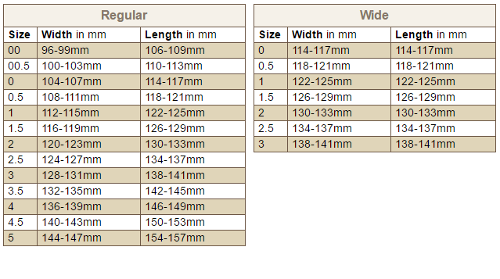 Sold individually.

Sizes:

Regular:
00-4  $129.00
4.5-5 $154.00

Wide: 0-3  $129.00
---
| | | |
| --- | --- | --- |
| | | |
| | | |
| | "Old Style"   Easyboot Glove Size 3 (2 left) $80.99 | |
---
 Easyboot New Mac

Every New Mac horse boot has a unique hi-tech performance outsole and incorporates the patented Hoof Suspension™ System. The New Mac is composed of a specially developed Thermo Plastic Urethane (TPU) compound which minimizes concussion and shortens recovery time for horses with concussion-related injuries. The New Mac is a great option for pleasure riding (less than 25 miles per week) and can also serve as a therapy boot. If your horse suffers from any of the following - arthritis, pedal bone fractures, navicular disease, ringbone, laminitis (founder), bruised soles, or scalping from overreaching–the New Mac horse boot will benefit your horse.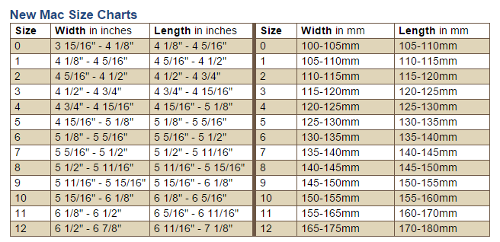 Sizes 0-6   $289.00


Sizes 7-10 $340.00

   Sizes 11-12 $379.00

Sold in Pairs
---
"NEW" Easyboot Trail

We've Built The World's Easiest Hoof Boot
The Easyboot Trail is the easiest hoof boot in the world to apply and remove. The attachment system assures booted success throughout the trim cycle. The boot opens up completely to easily slip on and off over most hoof shapes and sizes. The rear double Velcro® attachment protects the entire hoof wall and keeps the boot firmly in place. EasyCare Gaiters are an optional accessory (sold separately).
The Easyboot Trail features include:
• Opens wide to get the hoof in and fastens with Velcro®. No additional buckles or straps to negotiate.
• Offered at an entry-level price point: One of the most affordable boots on the market today.
• Tough polyurethane sole offers excellent durability and grip on all terrain.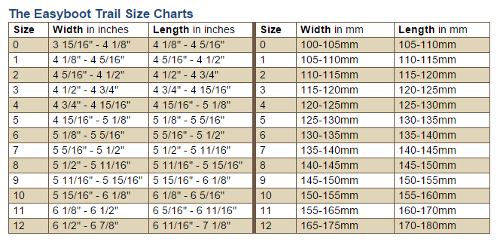 Size 0-6:    $170.00     

Size 7-10:   $181.00

Size 11-12: $211.00

Sold Individually
---
Easy Boot Back Country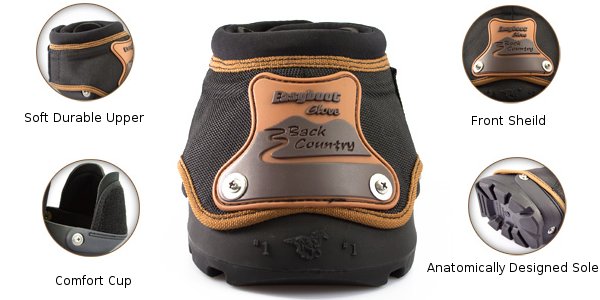 "Our Best Boots Combined Into One"


The Easyboot Glove Back Country takes the best features of the Easyboot Glove and combines them with the Easyboot Trail. The Glove Back Country concept pairs the form-fitting fitting Glove chassis and incorporates an easy to secure upper modeled after the Trail.

The Easyboot Glove Back Country is Adorned With Features 
The Comfort Cup Gaiter is incorporated into the rear of the boot for the latest technology in support and protection of the soft tissue areas.
The lightweight upper stabilizes the boot on the hoof Quick and easy to put on and take off: no strength or force required. 
Available in 18 regular and wide sizes to fit most breeds (see sizing chart below)
Completely convertible: built on the Easyboot Glove chassis, this boot can be converted into an Easyboot Glove or Easyboot Glue-On (note: additional accessories required).

The Most Luxurious Hoof Boot in the World 
If you want the finest boot money can buy, this is the boot for you. The Easyboot Glove Back Country is recommended for medium to high mileage riding of 25 – 50 miles per week. 
Sold Individually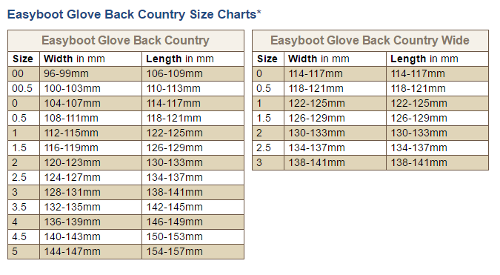 Available in sizes 00-4 Regular and 0-3 WIDE

$148.00 EACH

---
EasyCare Therapy Boots

Easy Soaker
The Perfect Soaking Boot

The EasySoaker is perfect for a variety of applications where protection or treatment of the hoof is required:



Soaking and poulticing
Conditioning
Providing a clean, protected environment
Holding medication at wound site
Weight transfer (heel or toe)
Reducing concussion
With so many applications, the EasySoaker is a must-have in any tack room. 
As with any hoof or leg related injury, consult your veterinarian or hoof care professional for diagnosis and treatment recommendations.
We recommend sizing up when purchasing an EasySoaker 
Sizing up one to two sizes allows extra space for bandages and liquids to be used inside the boot. In addition, a larger size makes application and removal quicker and easier. Sold individually. 
Not to be used for riding

Easy Soaker Size Chart(inches)

| | | |
| --- | --- | --- |
| Hoof Width | Hoof Length | Boot Size |
| 3 3/4 - 4 1/2 | 4 1/4 - 5 | Small |
| 4 1/2 - 5 1/4 | 5 - 5 3/4 | Medium |
| 5 1/4 - 5 3/4 | 5 3/4 - 6 1/4 | Large |
| 5 3/4 - 6 1/4 | 6 1/4 - 6 3/4 | XLarge |
| 6 1/4 - 6 3/4 | 6 3/4 - 7 1/4 | XXLarge |

Small-Large:            $60.00 each

XLarge-XXXLarge:  $68.00 each

---
| | |
| --- | --- |
| OVERSTOCK  EasySoaker Medium (4 left) $36.99 | |
---
---
Easyboot Rx
The Easyboot Rx is just the prescription for horses requiring a therapy boot that offers stability and support without being heavy or clunky. 

Veterinarians, hoof care professionals and horse owners alike rely on the Easyboot Rx to help horses heal and recover quickly. It provides support and relief for horses suffering from chronic lameness, laminitis, founder, navicular and other lower limb/hoof problems. 

The Rx is an excellent choice for those horses that simply have difficulty standing on hard surfaces for extended periods of time. The boot can be used to speed recovery and offer protection after surgery or injury, lessen fatigue and add protection during trailering as well as offer a safeguard in the breeding shed. 

The sole of the Easyboot Rx is a combination of durable and soft material, much like that used in human orthotics, in a light weight package. All seams and edges of the upper are rounded for safety. Three air vents provide air circulation keeping the hoof cool while preventing the accumulation of dirt and debris. Each boot comes fitted with an EasyCare Comfort Pad (medium density)to provide immediate relief and additional sole support. Replacement comfort pads in three densities are available at a very affordable price. 

Application is quick and easy. The unique upper of the Easyboot Rx folds down and opens large enough to accommodate the wide base of a hoof, allowing for quick application without strength or force. After the hoof is placed in the Easyboot Rx, two hook and loop tabs are fastened to provide a secure fit. A quick pull on the hook and loop tabs and the Easyboot Rx is easily slipped off the hoof. Each boot has a double hook and loop lock system that prevents the boot from opening unintentionally. 

The Easyboot Rx is not intended for riding but can be used for light turn out.

Sold individually. 

The Rx works well with bandaging (be sure to size up one or two sizes when using with bandages).

| | | |
| --- | --- | --- |
| Size | Width in inches | Length in inches |
| 00 | 3 13/16"- 4 3/8" | 4 3/16"- 4 5/8" |
| 0 | 4 3/8"- 4 9/16" | 4 5/8"- 4 15/16" |
| 1 | 4 9/16"- 4 7/8" | 4 15/16"- 5 1/8" |
| 2 | 4 7/8"- 5 1/8" | 5 1/8"- 5 9/16" |
| 3 | 5 1/8"- 5 1/2" | 5 9/16"- 5 15/16" |
| 4 | 5 1/2"- 5 15/16" | 5 15/16"- 6 7/16" |
| 5 | 5 15/16"- 6 7/16" | 6 7/16"- 6 7/8" |
| 6 | 6 7/16"- 6 7/8" | 6 7/8"- 7 7/16" |
| 7 | 6 7/8"- 7 9/16" | 7 7/16"- 7 3/4" |

Sizes 00 - 3 $113.00

Sizes 4 - 7   $129.00

---
Easyboot Cloud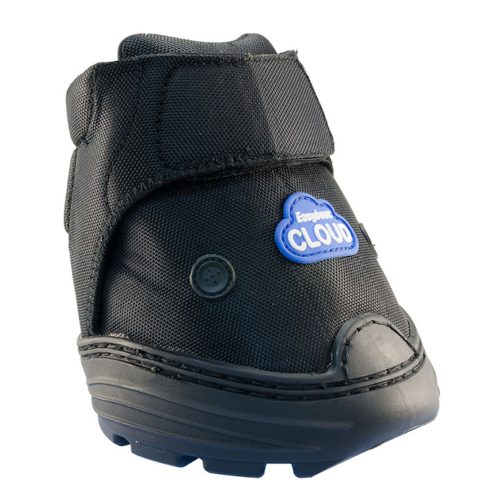 The Most Robust Therapeutic Boot In The World
 The new Easyboot Cloud is a therapeutic hoof boot system designed to give comfort and support to horses with thin soles, abscesses, founder, laminitic stages, stresses of shipping, recovery after workouts or stalling on hard surfaces. It also provides instant and ongoing relief for horses suffering from chronic lameness and general lower limb or hoof problems by aiding movement and reducing recovery time after injury or surgery.
Seams and edges of the industrial strength Cordura® upper are rounded for safety. A padded collar provides additional relief to the pastern area. Three air vents provide air circulation to keep the hoof cool while preventing the accumulation of dirt and debris.
Each Easyboot Cloud comes with a removable closed-cell EVA standard pad. Replacement Cloud pads are sold separately. The Easyboot Cloud may be used in conjunction with the EasyCare Therapy Click System®.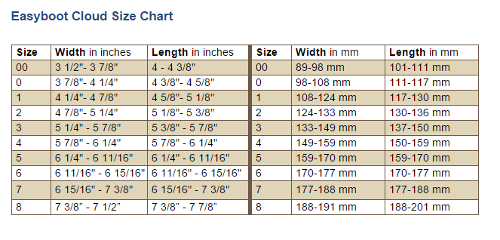 Sold Individually

Size 00,0,1,2,3:   $145.00

Size 4,5,6,7,8:     $177.00
---
Easyboot Cloud Replacement Liners
---
Easyboot Zip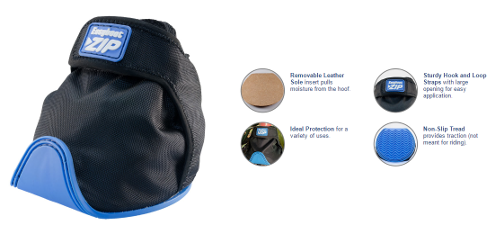 The Easyboot Zip provides a clean, protected environment for the hoof.
 The Easyboot Zip is a simple slip-on boot designed to protect the hoof. Safe and easy to apply, the Zip is a better alternative to clumsy foot wraps for medicating the hoof or keeping the hoof free from dirt and oils. The removable internal leather sole helps pull moisture from the hoof and can be easily removed for cleaning.

Available in Size 0-4

$76.00 each
---
Easyboot Zip Replacement Liner
---
Easy Boot Accessories
Easy Boot Gaiter
The EasyCare Hoof Boot Gaiter is recommended for sandy or muddy conditions. It helps keep excessive sand and dirt out of the boot. It can also be used on horses who have a tendency to chafe. Originally designed for the Boa Hoof Boot, the gaiter works exceptionally well on the Old Mac's Horse Boots and Easyboot Trail Boots.


Size: Small/Regular
(5 mm Neoprene, for Boa Boots Size 00, 0 , 1 , Easyboot Trail Size 0,1,2,3 or 4 and Old Mac's Size 0,1,2,3 or 4)
Pastern measurement up to 9 inches
---
Boot Studs
Long wearing studs (4 per boot) can be easily attached to any boot to provide traction on asphalt, ice or other hard or slippery surfaces. The studs may be removed when their application is no longer necessary, and replaced as needed.) 

Set of 4

3/4"  Use in up to size 4 for Easyboot, Epic, Glove and Back Country style boots.

 1" These Studs fit Easyboot and Epic sizes 5, 6 and 7, and all sizes of Old Mac G2's and Easyboot Trail boots.

$25.00

---
Easyboot Replacement Cables & Buckles
 Hard riding in rough terrain can sometimes result in frayed or broken cables and damaged boot buckles. Fortunately, a broken cable does not mean the end of the line for your Easyboot. New cable & buckle kits are available from EasyCare. Either install yourself (access to a pop-rivet gun is necessary), or ship your Easyboot back to us for installation. Please specify Easyboot size when ordering.

$25.00
There are many more accessories available. Let me know what you are looking for  here, and I'll see if I can get it in
---
Measuring for Boots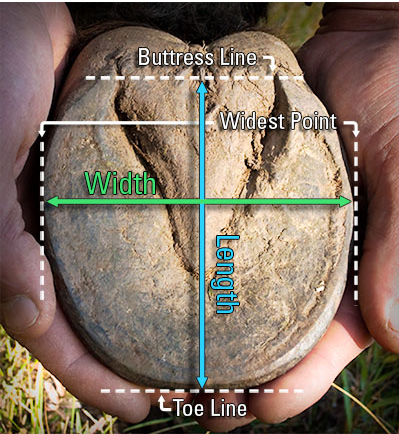 It is important to match the width and length of the hoof to the Horse Boot size. The front hooves of most horses tend to be more round and wider than the hind hooves. The best fit may require a smaller size for the hind.

How to get the correct size boot for your horse: 
After a fresh trim
-Measure the width of the hoof across the bottom at the widest point. 

-Measure the length of the hoof from the toe to the buttress line of the heel.The buttress line is the farthest weight bearing point of the heel. 

-Compare your measurement with the proper size chart 

Ideally, the width and length measurement will fit into the same Horse Boot™ size. If the width and length measurements indicate different sizes, select the larger size. 


Proper Hoof Measurement:
If the foot is dirty or you have trouble visualizing the butress line, the bottom of the foot can be lightly rasped or brushed until the hoof wall is clear. The ideal situation is where you can get 2 measurements, one before and one right after trimming. This will tell you how much growth to expect between trimmings.

Measuring Length:
Generally speaking, the length is the most important measurement when booting, and the mesurement that is most often misunderstood. A horse is measured from the toe to the butress line, which is the last weight bearing surface of the foot, where the hoof wall ends. A ruler should be placed at the toe, and run straight down the center of the hoof. If the heel bulbs are included in the measurement, the boot will be much too large.

If you plan on using the boot over the shoe, you should measure to the back of the shoe. 

Measuring Width:
The widest part of the foot should be measured, straight across the hoof. Sometimes this is forward or behind the centerline. If the foot is chipped badly, estimate where the hoof should be. 
If the horse is between sizes, go with the larger size.

Beacuse every boot size has a different shape, there are instances where some boots fit better than others. Easyboots, Epics and Boas fit a more elongated, oval foot, where Old Mac's are often better for rounder, shorter feet.

We do not recommend the boots if: -They choose Old Mac's and the hoof width is one or more sizes larger than the length OR the length exceeds the width by more than 4 sizes.
-Boa's, Easyboot or Epics are chosen and and the width is one or more sizes larger than the length OR the length exceeds the width by 2 or more sizes.

Common misconceptions about sizing:
1) Horse boots are sized about the same as horseshoes.
This is incorrect.Horse boots vary greatly and each requires an accurate measurement of the foot. Most boot sizes have a fixed length and much of the measurement is based on length rather than width. 

2. Length is measured from the toe to "That part that I can see at the end of teh foot" (the bulb).
Length is measured from the toe to the butress line. Including the bulb will cause a boot to be much too large.

3. Every foot is the same size, so I'll just measure one foot
It is not unusual to have the hind feet be one size smaller than the front feet, or the front feet to be slightly different than each other. Each foot that is booted needs to be accurately measured.

4. I can just trace my horses feet to get an accurate measurement
It is better to pick up the foot and measure with a ruler than to take a tracing. A tracing usually adds at least 1/8" to the measurement (which could put you into another boot size) and many people trace around the heel bulbs which makes the measurement very inaccurate.

5.If my horse wears a #1 Easyboot, he will wear a #1 Boa.
Every boot is sized differently.
---
---
Like us on Facebook to stay up to date on new products and sales!

---
Share pictures of you and your horse using your new stuff!!
@thehitchingring